I visited 'Sculptures & Drawings. 2000-2014' at the S.M.A.K.. , an exhibition of the work of Berlinde de Bruyckere of the past 15 years. I expected to enjoy a beautiful tribute to vulnerability and suffering, which are Berlindes chief themes.  The exhibition gave me more than I even expected, it was simply stunning. Especially the technique used to create the sculptures in wax struck me. I was so fascinated by this texture, that I accidentally touched it with the tip of my nose trying to understand what I was looking at. The presentation also includes earlier works in textile and horse skin that gained the artist her international renown.
These pictures are taken by Leen Daems, a very good friend of mine. She is Press Officer at Bozar Expo. Always fascinated by my overdressed appearance, she inspired me to start up this blog. This evening she persuaded me to strike a pose in front of her camera. Since I am not a professional model, and she is not a professional photographer, we giggled our way through the museum trying to produce a decent image. I think it took us about 20 takes to produce the "spontaneous" pictures included in this post. Off went our credibility that night amongst the other opening night visitors.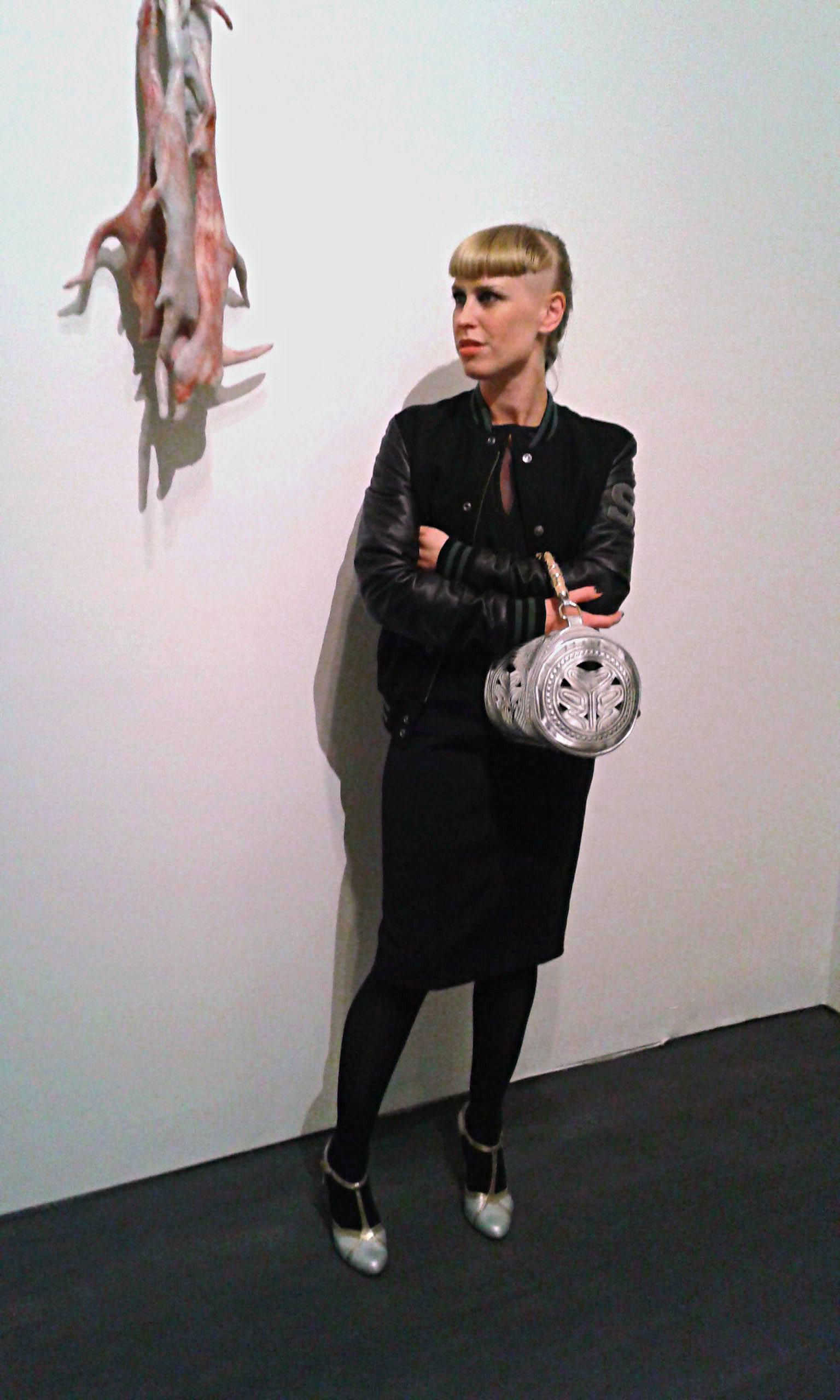 I'm wearing a jacket by Scott N.Y.C., found it at Rosier 41.  This is a second hand shop in the heart of Antwerp where Viviane and Paul sell high fashion labels at small prices. You can find all Belgian designers here, such as Dries Van Noten, Ann Demeulemeester, Maison Martin Margiela, Raf Simons , as well as international brands such as Jil Sander, Dior, Marni, Chloé, Rick Owens, Damir Doma,  Balenciaga and many others. Underneath I'm wearing a Karen Millen dress. Tights are Mediven Elegance compression tights. I can understand that you might find this a very unsexy item to wear, but ever so convenient at sultry exhibition openings. Shoes are by Cuplé, got them at El Corte Inglés in Barcelona. Make sure you shop at the El Corte Inglés at Plaça de Catalunya 23, they sell more streetwise collections than the department store at the other side of the square. Finally, the purse I am carrying is a gift from my husband. He bought it at Bonaventura, a second hand purse shop in Antwerp, Aalmoezenierstraat 38. Bonaventura is the place to be for second hand handbags and accessories. This cosy shop kept his vintage look and features – as it should- a well filled window. For the bargain hunters amongst us: you can even find some authentic Chanel, Louis Vuitton or Delvaux purses over there.
If you like to know how to create a dutch braid similar to the one in the picture, please have a look at my tutorial.