I love Belgium. I love Brussels. I love Bozar. Add some fashion topping and musical cream to this delicious trio, and I'm all fired up.
Bozar invited me -and a significant troop of fellow fashionistas- to the opening night of no less than 5 exhibitions at the same time: "La mémoire de l'intime – 150 Years Primadonna", "Bellisima – The story of Five Dresses", "The Belgians – An unexpected Fashion Story", "The Honey Dress – A Film by Jean-Philippe Toussaint" and " Jean-Philippe Toussaint – The Seasons".
When the doors opened, the crowd shuffled into the many beautiful exhibition rooms of Bozar. Most of us where so busy presenting themselves to their entourage and finding the right attitude, that they didn't hardly notice the live performance of Gregory Frateur, although he was standing on a prominent stage in the middle of the main hall. Accompanied by Bram Weytens, Gregory brought us "Norine Blues", a song composed in the twenties by Paul Magritte, brother of famous Belgian painter René Magritte. He composed it for Madame Norine, who was a renowned Brussels-based fashion designer at that era. I was delighted to see, that, with me, there was a handful of attentive visitors enjoying this beautiful song, with good reason. 
After the performance, me and my husband dived into the waves of the main exhibition, "The Belgians". Considering the busy working day in my wake and the buzzing crowd in my personal space, I figured out it be better to let myself float through the space simply following my basic instinct. This drove me straight towards the pieces that filled me with good memories:
Pierre Antoine Vettorello's dress from his Master Collection "Light me up", 2010.
I'm in love with Pierre Antoines silhouettes from the moment of his Bachelor collection "Bonnie Magnum vs Samantha Beretta", 2009. When he asked me to take care of the make-up and hairstyling for the shoots of his Master collection "Light me up" in 2010, I gladly joined the crew. I stand in awe for the fact that he is working on his own label. His unisex garments are designed and made in Belgium, exhibiting a fusion of poetry and drama.
Walter Van Beirendoncks monster shoes from his collection "Avatar", autumn-Winter, 1997-98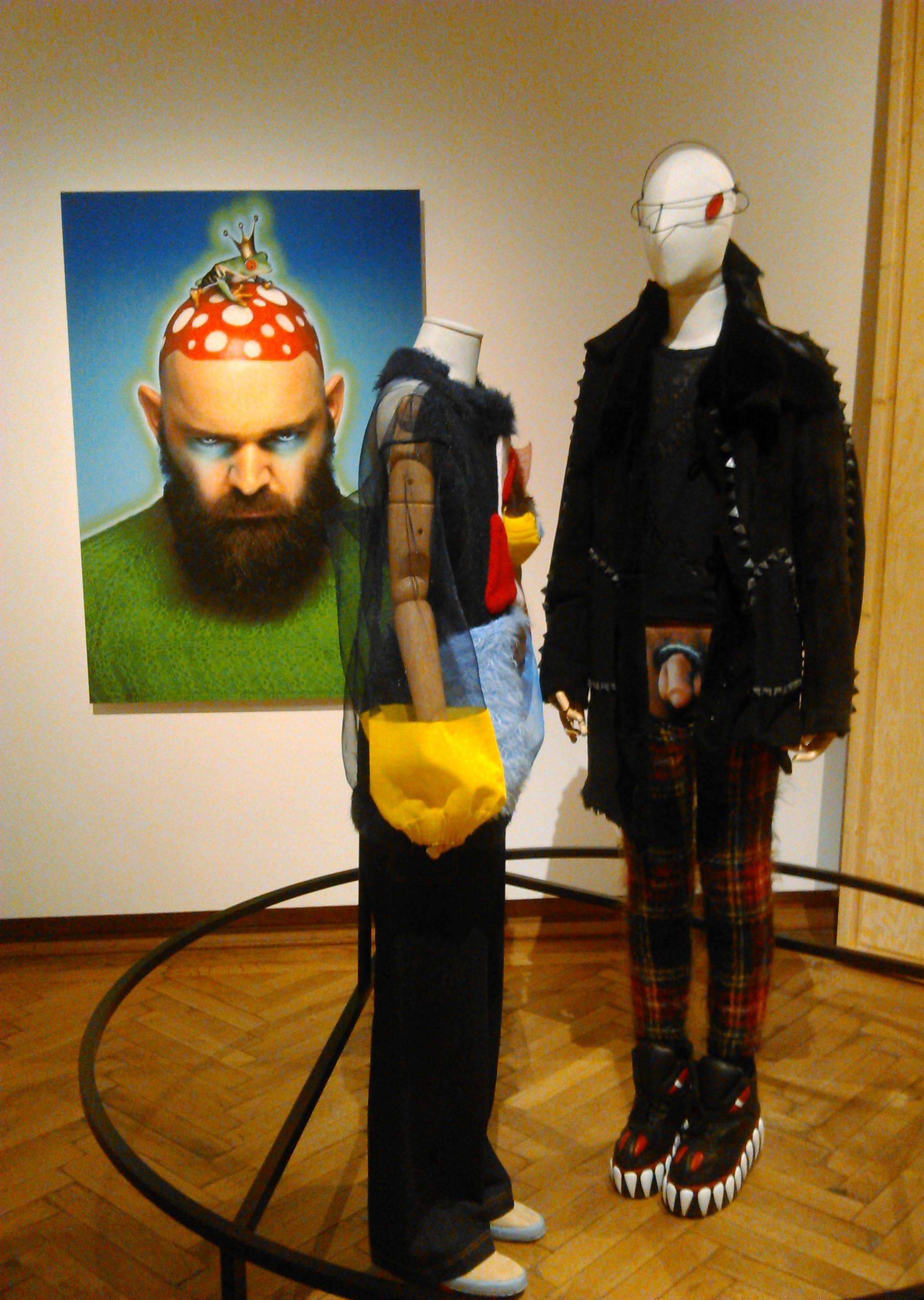 Well, in my hometown Antwerp, we call him "De Walter". I suppose, that sums up how influential our big daddy of fashion is. Walter Van Beirendoncks spectacular collections and shows have overwhelmed the international fashion crowd already since the beginning of his career in the late eighties. For me, his nineties collections have played a significant role in determining my teenage identity. I literaly feasted on the whole package of the magical shows, over the edge photoshoots, fairytales, the link with good music and, of course, my guide in life at that moment: Puk-Puk. He told me to have safe sex and to enjoy life and love as much as possible. Every collection, I went with my mom to his store -in the St-Antoniusstraat in Antwerp at that time- and persisted as long as needed about the beauty of it all, until I she bought me at least one item of it. I'm ever so grateful for these moments and still cherish every fiber of these garments, now carefully preserved in my "Walter" box. I was a teenager at that time, and wore Walters clothing for school. You can imagine the comments I got, since I was attending an "ordinary" highschool, nothing to do with fashion or art at all. One of the dresses I wore on a weekly base is this one (Avatar, winter '97-'98):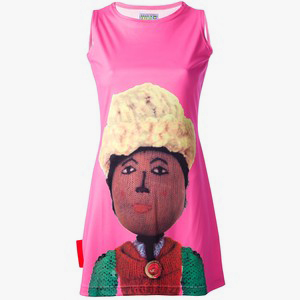 The monstershoes displayed in the exhibition were also on my wishlist, but even to my ever so open-minded mummy, this was a bridge too far.
Three enormous photographs of the naked Vivienne Westwood by Juergen Teller.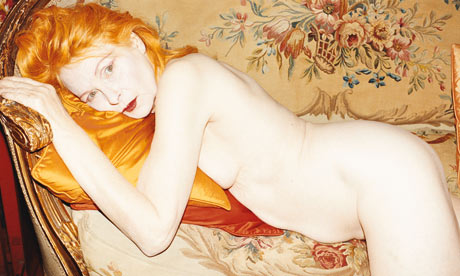 I still don't understand why the English never tried harder to get a queen like Miss Westwood on their throne. For me, she's the leading lady of combining playful naughtiness and timeless glamour. Her audacity is unparalleled, proven once more by Juergen Tellers triptych from 2009. At that time the fashion designer was 68. In two of the images she reclines on an antique sofa which sets off her ivory white skin, and in one she sits legs akimbo, holding the camera with a smile and an exultant gaze.
And then….. me.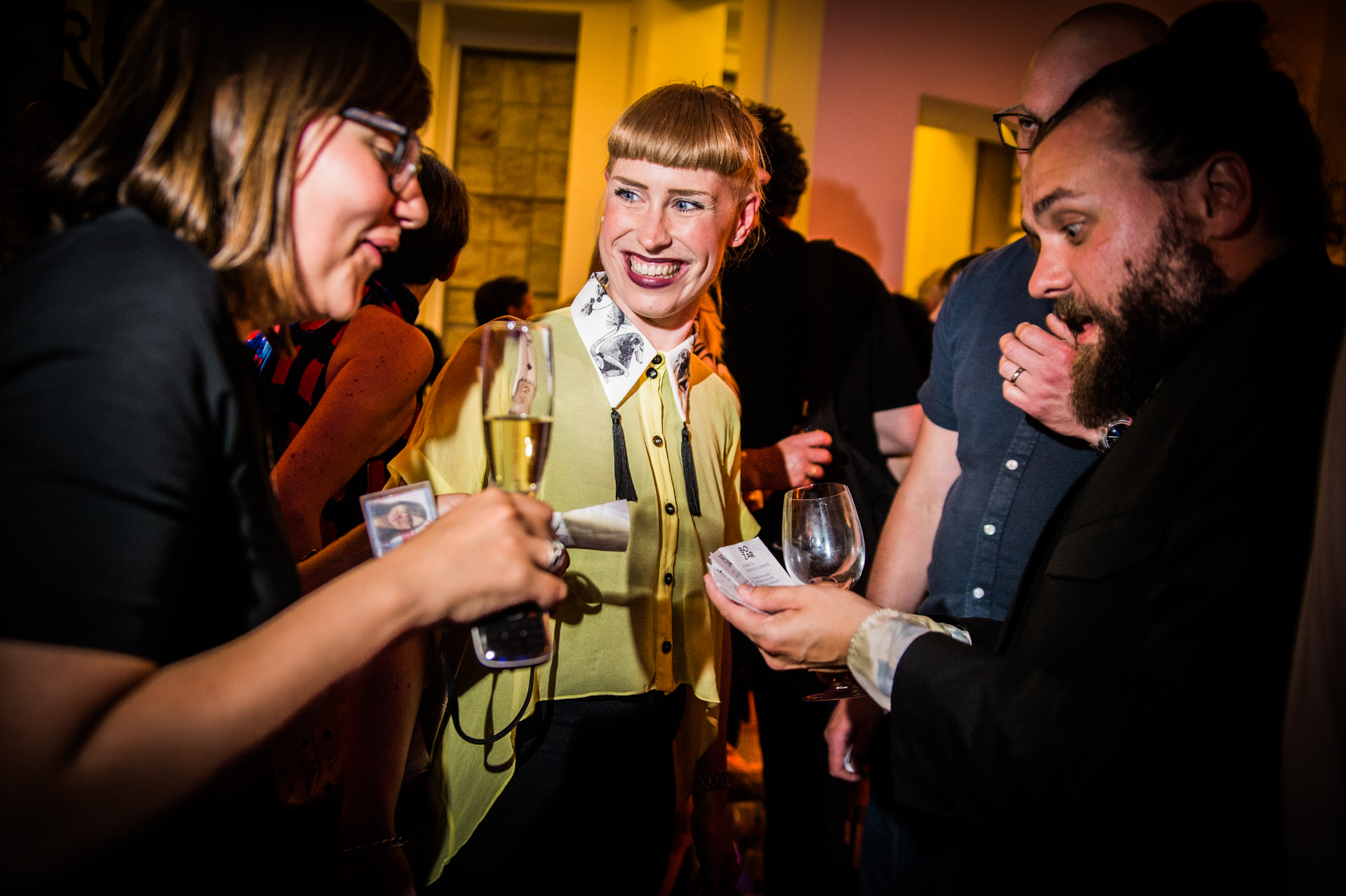 Since I was crossing over from the Belgians towards the British already, I might as well proceed in this direction. At least once a year, I have to visit London to keep track of the latest caprices of the fashion and music scene over there. The blouse I'm wearing in this picture is by Harnett & Pope, 125 Brick Lane. If my budget would allow it, I would buy the whole collection. I stuck to my plan of buying this piece, because I was under the spell of the two Darwinesque monkeys on both sides of the collar, and the tassels, of course. Sarah and Leen, my fellow shoppers at that moment, prevented me from buying the rainbow gradient version, which was über cool, but less wearable than this green – yellow version. Every time I'm wearing this blouse, there are at least three people complimenting me about it. Word up Katie Pope et Christy Harnett!
To match this blouse, I had my nails done in black and white by Gabriela at Nail Couture 43. She used water decals to create the graphical black shapes. She applied an off-white shade as a base to avoid the Tipp-Ex effect.