I wanted to celebrate my birthday with some dear friends and therefore ended up on a friday night in Frank & Brut, a new hot dog -ow yeah- place in the heart of Antwerp. I met there with my besties Eriq and Sven and, of course, my husband Pieter. At Frank & Brut they serve a heavenly combination of hot dogs, sharings and sides. All of this is veiled by the tastiest champagnes in town and nicely served in a setting of pure sin, as you can see in the picture below. I love the details in the interior and table decoration, there must have been a true perfectionist at work here.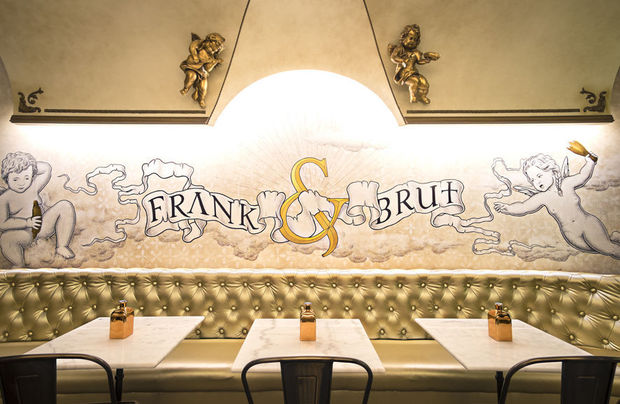 Since Sven desperately wanted to order a magnum bottle of champagne, the atmosphere went in a jiffy from rather neat to rather gay. We decided to leave the restaurant with dignity and move over to an even more sinful place called Café Beveren, also located at the Ernest Van Dijckkaai.
Café Beveren is a cosy café with a more than darkbrown interior. Visitors and regulars are taken way back in time. The eye-catcher of this bar is the Decap organ that plays nostalgic music all night long.  For those who can't seem to get enough of it all, there is also a regular jukebox with more "up to date" music. Believe it or not, but, in the middle of all the madness, the outcast characters, a bunch of polonaise dancing fellas and a slight hint of sad athmosphere, it was me who drew the attention of one of the regular customers. He came towards me, although I was hidden behind my male accompaniment, and gave me a genuine "Café Beveren" T-shirt. He was convinced I deserved it for being such "a good girl" :-). Most surprising birthday present ever… love it. Afterwards, while fitting at home, we realised, that my husband looked way much more sexy in the T-shirt than I did. Damnit.